Another exciting week for all of us working within the field of SEO – SEMrush have released their updated Google ranking factors study. How should you work with Google and SEO? The study below intends to answer many of our questions based on data and research. It might not be perfect, but it is a great resource.
What is SEMrush?
Currently used by 1 500 000+ users, SEMrush is a competent and competitive web interface suite for digital marketers with over 30 tools, 140 databases, 3.6 billion keywords and 4 trillion backlinks. As a user since 2015 I've seen the evolution of the suite from good to great.
About the SEMrush Study 2.0
The methodology can be broken down into five steps. Top 100 positions for 600 000+ keywords where each page and domain have been analysed based on 17 factors, including on-page factors, backlinks, traffic data on domain and URL level. All keywords have then been grouped by search volume*, segmented by long-tail and short-head followed by applying a machine learning algorithm – to determine the importance of ranking factors. You can read more about the research and methodology right here, if you want to dig deeper into the research approach.
* low (1-100); medium (101-1,000); high (1,001-10,000); highest (10,001 and up)
You can download the SEMrush Study 2.0 right here.
The research at a glance
Some initial findings, before downloading the study via the link above: 65% of domains that are ranking for high volume keywords are HTTPS and 18% of domains don't have the keyword in the body. 49% is the bounce rate for the domains ranking within top 3.  45% is the content length difference between top 3 and the 20th position in Google.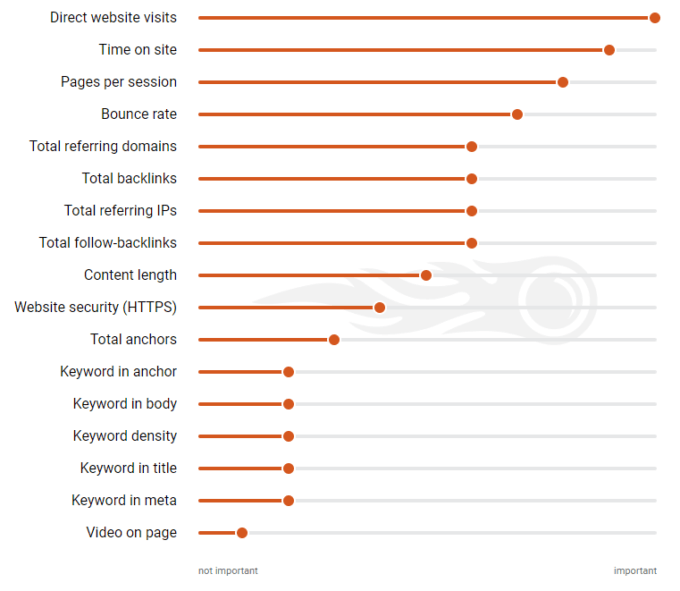 The research is worthy of your time and thoughts. All the compiled data gives us a good overview and insights to confirm our own beliefs. The adoption rate of websites that have migrated to HTTPS is something we've all heard and seen before, but the data broken down into Google positions and search volume segments is interesting – and alarming for those of us that have not made the switch yet.
Metrics to keep an eye on that the research suggests influencing your rankings is not only bounce rate, but pages per session and time on site. I highly recommend you to read the study and take the appropriate actions for your, or your clients, website.