Working with an ecommerce website is a lot of fun, but also very time-consuming. The ecommerce marketer must not only rely on industry and geographic trends, but always back ideas and next steps with data. One big issue for marketing consultants today is to cut through the noise and find data that can deliver insights, not just numbers.
Are you working with an ecommerce website capturing transaction data with Google Analytics? Then copy this Google Analytics Transaction Dashboard and add it to your own account.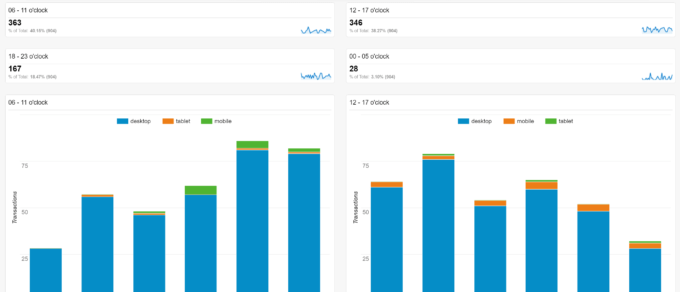 As a digital marketer I work with traffic acquisition and analysis most of my days. I know how hard it can be in a project where you have a small window of opportunity to jump in and set a direction for a team eager to start improving their results.
Start digging your feet into your analytics tool and look at hourly trends across different types of devices. I've set up one specific Google Analytics Transactions Dashboard (copy it to your account with this link) that looks into hourly trends across devices.
Use the report to identify when people are buying and when they are not. Have you implemented a website chat function to help people find what they are looking for and complete their transactions? Make sure that your staff working with the chat are actually online when your users are. Don't waste time and money on features and services that are not being properly used.
There are tons of insights your can find – you just have to ask your data the right questions.