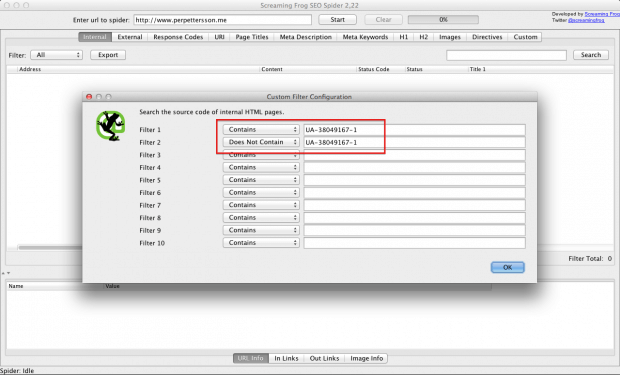 Screaming Frog is a very handy tool that I use for multiple purposes. One of them is verifying if the Google Analytics Tracking Code, or GATC, is properly installed on the website I'm working with. Let's go through how with a couple of easy steps.
First, make sure you have Screaming Frog. It's available for Mac, PC and Linux. Then start the software and enter the URL you want to check the GATC on. Open Configuration > Custom in the menu and enter the Google Analytics Tracking ID in the first and second field. Make sure that one is set with "Contains" and the other "Does not contain". Just like the screenshot above.
Hit OK followed by Start. Let Screaming Frog work it's magic and when it's finished, under the Custom tab, you'll see a drop down menu with a couple of filters. The first one we created will show us pages containing the GATC (see the screenshot above) and filter number two would show us pages that doesn't have the GATC:
Apparently I'm collecting data on all my pages, except the login page and that's OK. I don't care how many times I'm loading that page.
Besides verifying that the correct Google Analytics Tracking ID is being used on a website, I would look for "viagra" as a custom filter. Why? Because I would be very upset if my website was hacked and I didn't know about it.