Google Search Console is a great free tool for website owners to use. Search Console makes it easier to manage, optimise and handle website issues. The tool contains multiple reports and options to manage a website – from understanding how the content performs in search (Google only) to technical errors and international targeting. With this post my intention is to make a you understand how your content is performing in search, with the help of Search Analytics.
If this is the first time you hear about Google Search Console – relax. It used to be called Webmaster Tools and you have probably used it before. If not, you need to verify your domain/website before going further.
Introduction to Search Analytics
Open up the Search Analytics report which looks something like this (depending on the interface language settings you're using):

The Search Analytics Report shows how often your site appears in Google search results. Filter and group data by categories such as search query, date, or device. The data in the chart is also represented in tabular form on the page. This table holds a maximum of 1,000 rows; additional data is truncated for space reasons. In addition, very rare queries will be omitted for user privacy reasons.
Let's get started with our search performance analysis. Add Impressions to the report (tick the box) and you'll have plenty more data to include in the analysis. We want to review important keywords/search query and understand how they perform with our content. Choose a search query that you find interesting in your own report and click it.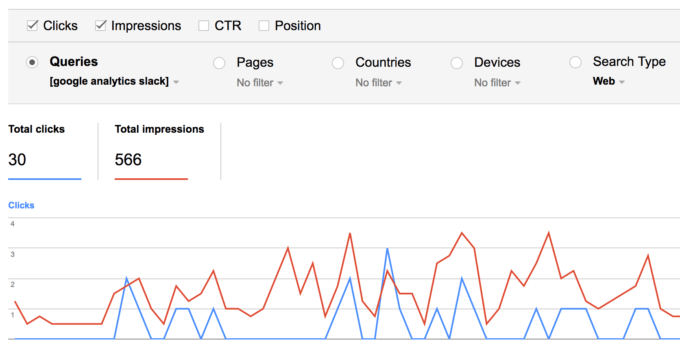 We have singled out one specific search query and can see how it performs over time with clicks to our website and impressions, search results that have included our website on the choosen search query. Great, but now what?
Change the filter to Pages and you can see the page or set of pages that searchers are being served in Google when using the search query: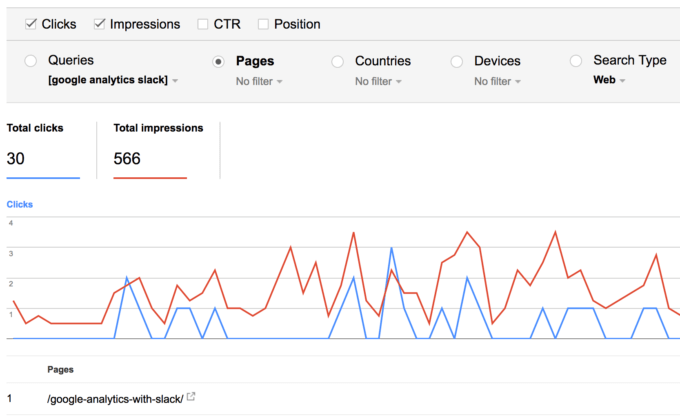 In lack of better words and Swedish being my native language; awesome sauce. Who needs expensive software to check search engine rankings? Well, ok, we all do. But this is a pretty good start.
Let's not stop here and keep on drilling down even further. Switch filter to Countries and you can see how the search query performs across the planet earth. Switch filter to Devices and see how it performs across devices. Make sure you give the mobile device filter some extra love. Google have announced that they will switch to a mobile-first index, so we want our websites to perform well for mobile devices.
One neat little function I look at while using Search Analytics is the Search Type filter. Here you would want to look at Search Type Image to better understand if your impressions (this can be quite common) are high because of the amazing images your posts and pages have on them. Our search results analysis should include the Google Image Search, without a doubt.
Search Queries and Pages
Let's use the Search Analytics report the other way around. Reset all applied filters and switch to Pages. Find one of the important pages on your website and click it. Then switch back to Queries and you have a detailed report showing all the search queries that have included our page:
Using Search Analytics this way is crucial when ever you're thinking about re-working a page on your website. Make sure that you're not optimising and looking for a single search query, while the page might be getting lots of good traffic from relevant queries that you just have not thought about.
Historical Search Data
There is only 90 days of data available in the report. So if you want to save data over time, you need to export and save it manually. OR you can use Search Analytics for Sheets and make Google Drive save all the data you need without having to do it yourself.
Finalizing the Search Performance Analysis
Don't get upset, but the last step to wrap this whole analysis up requires Excel/Spreadsheets. Using Search Analytics and the Search Console interface is great but not for telling stories or setting actions if you are a part of a team. Either you export data from the different filtered views and make some VLOOKUP magic, or you drill down in the report and export your findings as you go. There is no right or wrong if you're creating something out of all the data.