Do you need SEO services but have zero budget to hire consultants or an agency? Your only choice is to get up and going by yourself. SEO is not a black box but common, technical, sense that you can acquire by reading, testing, measuring and improving – all by yourself. With this post I intend to help you overcome the no budget issue and make get you going with SEO.

SEO stands for "search engine optimization." It is the process of getting traffic from the "free," "organic," "editorial" or "natural" search results on search engines. – Search Engine Land
SEO tools with no budget
To measure the effect or your work you need a set of advanced, but free tools. Start by registering for a free Google Analytics account and implement it on all your pages. We're going to use Google Analytics a lot in this post, to evaluate search engines, our content and how our pages are performing for visitors.
Keywords and search phrases are vital to understand when you're doing SEO. A free and complex tool you need to be using i Google Search Console. With Search Console we get a lot of automated help and ideas – perfect if you consider yourself unexperienced.
The world of SEO is very much about rankings. How your pages is ranking in search engine results – broken down into positions. Being number one on a keyword or search phrase means being the first organic search result.
Organic search results are listings on search engine results pages that appear because of their relevance to the search terms, as opposed to their being advertisements. In contrast, non-organic search results may include pay per click advertising. – Wikipedia
To keep tabs on your rankings, use Search Console for average positions on keywords your ranking for. But to get the specific position for a specific search engine (Google, Bing, Yandex and so on) you need to find a third party tool, like SEMrush. There are tons of tools on the market but SEMrush is my favorite due to the advanced functions and quick results when you start a new project.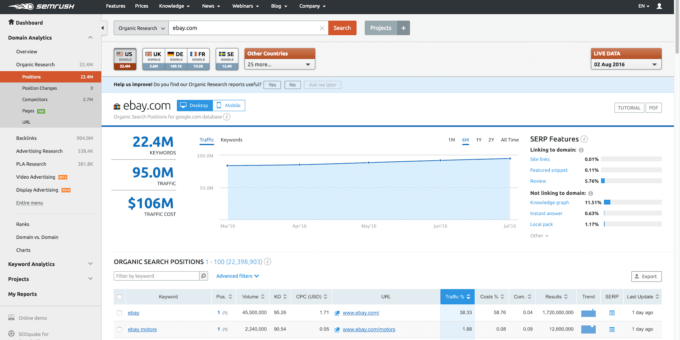 Finding out what people are searching for can be done with Keyword Planner, a tool that is part of Google AdWords. Without Keyword Planner, we would all just be guessing how our audience use Google. Data should always drive your decisions!
Finding your audience
Start your SEO work with Keyword Planner. Choose your market, language and then dig down deep into searches. Bare in mind that Keyword Planner is only looking at data collected by Google, not how people search on Bing, Baidu, Yandex and other search engines.
How would you search to find your service and/or product? Is there any add-ons, common questions that customers have or maybe your product can replace other products and add new, cool functions? This is one of the most creative parts of doing SEO and should also be given a lot of time. Include friends and family, people that have no idea of the industry you're working in. You want to do your homework before working with the content and structure of your website.
Setting a structure
When you have a clear understanding of how people search for your service/products, it is time to set a structure for the website. Cluster similar products within categories so that search engines will understand the content smoothly.
Front page
Product category one
Product category one / Product blue
Product category one / Product red
Product category two
Product category two / Product green
And so on.
All pages should serve a purpose and be designed for people, as well as search engines. This means adding unique content, text – images – videos, to each and every page. And not just copy and pasting the same content across all pages. Search engines will not give you any credit for repeating yourself.
Optimizing pages
There are a few parts of each page that you want to put your creativity and work into. The parts that will make your pages optimized and rank in search engines.

Start by writing a good title tag, which is the linked text in search engine results. This is the most vital part to do well, as we want search engines to understand what the page is about at the same time as we want people to find a call to action and click on our page, instead of the competition.
Then write your meta description tag – the text which appears beneth the title in search engine results. The meta description tag does not influence your rankings but the minds of searchers. A good description with a crisp call to action is yummy for the SEO tummy.
On the actual page you want to optimize the headings. The H1 tag and following H2 and H3 tags – and do not forget that you should only have one H1 tag on each page. It is the most important H tag of them all and should contain the keyword you're targeting.
All of the sudden we're down to the content. Search engines are machines and they love to eat good content. Text, images, links to other pages on your website as well as links to other websites. If search engines can't find any text about the service/product you want to be ranking for – how and why would they? Feed the machines!
Show Google your pages
With Search Console you want to add a sitemap.xml file – a list of all pages on the website. This will help Google to find and analyze all pages that you have created. You also get automated help if there is any pages or links that all of the sudden have broken down. Are the servers responding slowly or maybe even offline for hours – Google will let you know, so you can take action. Switch to a better hosting service that will give visitors your pages faster and make sure that your website always is online.
Have you built your website with tons of Javascripts and flashy functions? Use Fetch as Google and see if the Big G understands your pages and can access all vital parts of the website.
Now launch that beautiful website and watch it being indexed by Google.
Measure the SEO work
A week, two or even five have passed since you launched your website. Now is the time to measure the effect of the SEO work you've put in, with the help of Google Analytics. Always start with Acqusition > Overview to see how all the different channels are performing before drilling down in Organic Search.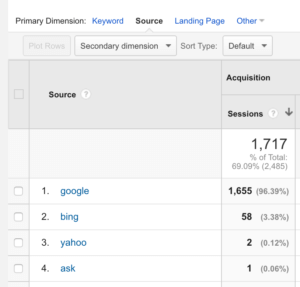 Change the Primary Dimension > Source to see which search engines are kind enough to send you visitors. Drill down to the search engine you want to measure and look at Primary Dimension > Landing Pages to understand which pages that attract visitors attention.
For some reason a lot of people like to talk about bounce rate. In my honest opinion, bounce rate is a very complex metric that can't be discussed briefly. Not all pages are created with the intent to get a visitor to take action, read more pages or sign up for things. If you think about FAQ sections, the purpose is to answer questions – right? So if a visitor comes to a FAQ page from a search engine and leaves, that could mean a question was answered. A high bounce rate would be just the thing you're looking for.
To identify the keywords used to generate all these visits to your website, you need to connect Google Search Console with Google Analytics. As of this year, the Search Analytics data can be integrated and displayed alongside Google Analytics data – hooray! This is something you have to connect in the Admin interface of Google Analytics, under Property > Property Settings.
When you've connected the data you can find the keywords used to generate visits to your website under Acqusition > Search Console > Queries.

Use this report to identify which keywords are working and which keywords that are not. You will probably find keywords and search queries that you did not even think about when you did your homework with Keyword Planner. This means – time for improvement.
Doing SEO is a never ending story, but a fun one. I hope that this post inspires you to get going with the right tools and mindset. If we all learn the basics of SEO, the better our search engine results will be. Unless you're a spammer. Don't be a spammer.