Understanding your content with Google Analytics is part two of The Photographers Guide to Google Analytics. Photographers should invest some time and set up Google Analytics the right way, for their portfolio and blogs which we touched in part one. As an amateur photographer I want to know how my photos are performing, what people like and which of my photos that they interact with, and that's what we're going to focus on today.
Understanding your audience
Google Analytics can give us a lot of valuable information about our audience. The first steps must be the Mobile report, Audience > Mobile > Overview, where we can find out which devices our visitors are using. The overview will show us desktop, mobile and tablet visitors. If you want to get all nitty gritty, have a look at Devices. The key thing here is to make sure your website works on all devices. Since Google started to premiere mobile friendly content for mobile searchers, this is even more important than last month.

And if you have set up any goals in Google Analytics, you can measure and benchmark these devices against each other. Where do you need to improve?
Now if you are reading this post as part of my guide for photographers, I'm not going to let you down. A photographer looking for gigs needs to understand more about his or hers visitors, like their location. Audience > Geo > Location gives us just this. Where in the world are our visitors located? As photographers tend to market themselves locally, a lot of them also have special talents. Niched. Great reputations that travels between states and continents. Using the Location report, change the primary dimension to City and you will get a better feel of where your audience and potential clients are located.
This is as sweet as my mothers cinnamon buns. But let's take this further. Wouldn't it be nice to see what our visitors in Stockholm are interested in? Drill down in the Location report by (in my case) clicking on Stockholm. Now let's add some simple Google Analytics magic. Secondary dimension: landing page.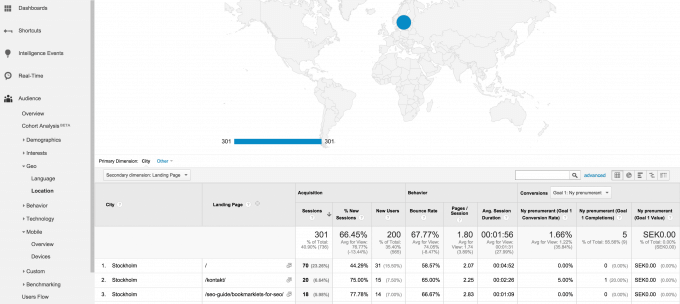 This neat report shows us what pages our visitors from Stockholm landed on. Bare in mind we are looking at a lot of sources at this time. It is a very good idea to play around with segments and isolate channels like organic search vs. paid search vs. referrals and so on. But we have to start somewhere and this is it.
If you are a niche photographer, you will most probably see in which cities parts of your website, and your services, are popular. A simple action to take could be ads in local magazines, based on an interested audience (thank you, Google Analytics).
Understanding your content
We're on track to understand our contents popularity by location, but we need to man up like Leonardo DiCaprio* and go deeper. One of my favorite reports in Google Analytics is the Landing pages report. Behavior > Site Content > Landing Pages shows us which pages are driving visits. These are the doorway pages into our website. The first content our visitors get thrown at them, so make sure (write this down, please) that these pages are optimal. No weird scripts that doesn't work in some browsers and make sure you have your call-to-actions in place. I always start by choosing the segment Organic Traffic.
Looking at landing pages that are getting visitors from organic traffic (search engines), I would start to optimize the pages for my call-to-actions. What do I want my visitors to do when they enter my website?
This report also gives us a good idea of our popular pages and/or pages that we need to give some more love. You can be the best photographer in New York, but your page could be in hiding. This is the Google Analytics report you need to check.
The good, the bad, the bounce rate
Looking at bounce rate as a metric can be debated over many cups of coffee. It is the good, the bad, the useful and the crappy metric depending on how you choose to use it. Google Analytics defines bounce rate as:
Bounce Rate is the percentage of single-page sessions (i.e. sessions in which the person left your site from the entrance page without interacting with the page). Source
My view of bounce rate are most of the time that it is useless to look at, alone. I write most of my blog posts, except the previous one (ironically), for one question or one topic. I want users to ask Google on a topic, find my website, visit the page, read the page, have their answer and go on with their day a bit happier. A bounce rate of 100% is good for me. A visitor enters my website, reads the page and leaves. But if I'm trying to get subscribers to my newsletter, I would need to shape up.
Google Analytics is one of the most powerful tools on the market, to help people and businesses understand their customers and content. You need to get a piece of this.
* How can we live in a world where Leonardo DiCaprio have received ZERO Oscars? Huh?
More guides for photographers