I've been working with the Searchmetrics Suite for over a year now. There are a lot of SEO tools and services online, but Searchmetrics have been one of the few I really liked and then spent time working with. For an SEO, the Suite is really good. I want to show you the features that make the hair on my arms rise and my heart pound a little bit faster.
I will go through the free version of Searchmetrics Suite so that you can start using everything, right away.
We'll start on the first tab, SEO Research, and enter the domain we want to analyze and for which geographical location. In this example we will use Daniel Waisberg's online-behavior.com and analyze it for the US Market, but you will have way more fun if you follow this post and analyze your own domain with the Searchmetrics Suite. Using the free version will not give you all the available data, but you'll get plenty for the price of nothing. And we start by looking at the Organic rankings, which will be based on keywords from Searchmetrics' pretty big database if the domain you're analyzing is ranking on any of the keywords or not.
So what kind of conclusion can we draw from this organic ranking report? Simple stuff, fast. For example, the domain is ranking on position 27, on page 3, for the search query "bounce rate". A query with a search volume (number of searches per month) of 5 061. I guess that some dedicated time and work on the page that is currently ranking on position 27 could pop it up the search engine result. And with a better position comes more exposure, which equals more traffic to the website.
Beware of searcher intent: If the content is about cute kitties but a page – with cute kitties – is ranking on a search query like "cheap brown Volvos" you wouldn't want to start optimizing that specific page all of a sudden for cheap brown Volvos. This would most probably kill your bounce rate and start messing around with your web analytics data. Why? Because the searcher intent was to find a cheap brown Volvo. Not a cute kitty.
Searchmetrics gives us, based on their database for us free users, information about our competition in the search engine results pages. The benchmark report will be based on the search queries we just reviewed on the domain we're analyzing:
Whoa! Daniel's content is fighting with a bunch of good websites with good content. Let's drill down in the data a bit more and click Show details:
The detailed organic competitors report will give you data on how many search queries your analyzed domain is fighting for, with each competitor. Don't stare at this report and start delegating who's going to start working with what. Every single search query, every competitor and every search engine result page comes with the searcher intent. Most of the times, you can and you really should, identify the intent first. And you might not want to start fighting with the big domains when there are quicker wins around the corner, that require less of your time. But let's not go and geek out on that right now.
The PPC Research tab gives you an idea of the domains Google AdWords campaigns and its competitors. Don't worry if this part of the Suite is pretty empty, since you probably should already be kicking this part within AdWords. But if you're doing an analysis of a domain which isn't yours – go give it a try. Just remember that Searchmetrics is looking at the search engine result pages at a specific given time and saves the information that they see. Maybe the competition wasn't advertising at this time? Maybe the timezone difference between Searchmetrics collecting information and Google AdWords ads being shown isn't quite working for your analysis. But, again, you should go give it a go.
If you're good at link building and want to have a look at the domains link profile, have a look at the Backlink Research tab. Who's linking to the domain, what's the anchor texts saying and which pages on the domain are getting all those juicy links?
Searchmetrics isn't giving us all the information, since we are using the free version of the Suite, but we get plenty. Looking at the Linked pages gives us an understanding of what pages on the domain are being linked to, the most: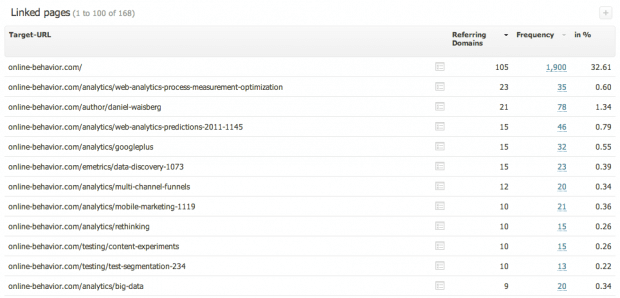 Let's look at this report from two angles. First, which pages are getting links and from whom? We can see what kind of content that's working the best and who likes it the most. Secondly, are there any URL's that don't exist on the domain any longer? If there is a URL which is getting a lot of good, quality links, but the page was killed – maybe it's time to give it new life. Or, if the content just isn't valid anymore, go redirect that URL to a similar page on the domain. We don't want to lose any visitors coming from these links by sending them to the domains 404 Not Found page. You have set up a 404 Not Found page, right?
Social Links gives us an idea of the social activity that's been taking place on and around the domain. Have visitors shared pages on Facebook, Twitter and, which pages? What kind of content is getting the biggest wings to fly on social media? Look at this report and connect the dots with your web analysis. This will give any social media manager or analyst something fun to do, and most of all, insights on what content is working, getting read and shared.
Searchmetrics SEO Suite can also support us when we're doing a keyword analysis. Under the Keyword Research tab we can enter our desired keywords and phrases that we're targeting with our content. The Suite will hit us back with similar keyword phrases – phrases that people are using right now, to find content:
The Keyword Discovery report will give you ideas of content to create and you can sort it by Search Volume, if you're going for the masses right away. Just don't create content for the sake of creating content. Add something of value, or you'll find yourself just cluttering up the World Wide Web. And that's not nice. We're sharing this space, you and I.
If we have a look in the report under Universal Search Integration, we'll see four (4) different icons. If an icon is filled with color, it's an indication that the search engine results page is showing something more than just pages from domains. There could be news sections, images, videos and maps. Heck, it could be many more type of features, but news, images, videos and maps are parts we can target with our content and optimize. Does our business deserve to be on the map for a specific query or our product to be pampered with an image result? We can find our way to potential customers and readers with not only pages these days.
Searchmetrics Free SEO Suite is stuffed with more detailed information and features, which you really should go have a look at. And if you have a budget for an SEO tool, give the full – paid – Suite a go. I used it myself for over a year and found it to be my "SEO geek partner in crime" at work. My partner that works 24/7 so I'll have time to hit the pub with my mates after work.