Lovely, sweet and sour keywords. We lost you in Google Analytics years ago, but we've learned to look for you in Google Search Console instead. The one thing that we still have a hard time to get over though, is the lack of historical keyword data. It is understandable that big Google can't keep all this data stored (for free) for the billions and billions of websites, so we're all stuck with only data for the last 90 days within the tool. But…
Save all your keywords to Google Drive
We can use a nifty little Google Drive add-on that will fetch Google Search Console and the Search Analytics Report on a monthly basis within a Google Spreadsheet. Also, for free!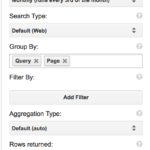 Activate the add-on and open the sidebar in a new spreadsheet. Choose your website and how you want to group the data. Your standard grouping should be by Query and Page. Metrics like Clicks, Impressions, CTR and Average Position will be added to all exported queries and pages.
If we want to visualise queries over time and show trends; group your report by Date.
Free up more time and use the Search Analytics for Sheets add-on to save all the searches you want and need each month. Go for a five month hike with your friends and let Google Drive gather all the historical keyword data you (might) need in the future.