Today I'm down in Helsingborg (Sweden). I've been speaking about Google AdWords and Facebook Ads at Mindpark for about 30 companies from my point of view when it comes to search engine marketing: Just push your ads live already.
Before you get me all wrong and start ranting about how it takes a minute to set up, years to learn and a lifetime to master, relax. I told the audience that as well. But my point was, and is, that a lot of businesses needs a kick in the butt. A push in the right direction. Get up, get going and then get stronger – wiser – better.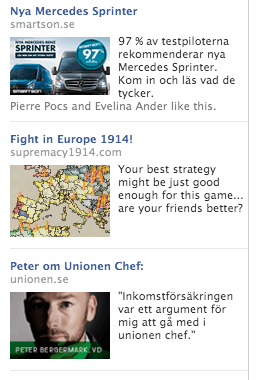 I talked about the fundamentals of Google and Facebook Ads. I think I mentioned the importance of measuring every activity the right way, one or two times too many – but it's so god damn important. And after my slides, I did what I really enjoy doing on a speaking gig. Hit the browser and do some work live. If you're implying that something is dead simple, you should do it live. Show that it actually IS dead simple.
After today's speaking gig, I'm keeping my fingers crossed that I've pushed some new businesses online with their message into the search result, across websites and to their potential customers on Facebook. And if you're a Google AdWords, Google Analytics, Webtrends, Piwik, Facebook, Linkedin or what ever – professional: I want to challenge you. Seek out the opportunity for a speaking gig and talk about the fundamentals of what you do. Don't overdo it. Don't get people scared, instead show the simplicity of getting up and going. And when they reach the end of their knowledge, the majority of businesses will hire a professional. The rest will be educating themselves and acquire the knowledge in-house. And that's good too. If every business would seize the opportunity of marketing their products and services that lays in front of them, we would get better and more answers when searching for them.
If I'm bringing in new business to my employer, or to a competitor – I'm happy. Because in the end, all I want, is that every business have a fighting chance to be the next big brand. And with the endless possibilities with online marketing, that next big brand could be you. All you have to do is give it your best and don't get scared of opportunities that looks complicated to learn. I would totally love that.