Keeping up with social media can be very time-consuming. If you're depending on social media to drive traffic to your website in order to get leads, sales or just grow awareness around your products or brand – analyzing what works and what does not will eat up a lot of your time. And sadly, social media is still somewhat of a black hole when it comes to visits.
When a user comes to your website via the Facebook or Twitter app, you will not see them as traffic from Facebook or Twitter. Apps are not browsers, built to send this information when the user clicks a link. In short, if you rely on social media to drive visits to your website, blog or shop – you need to tag the links you're sharing to get all information into Google Analytics.
Google have the URL Builder, which is a great tool, but not for all of us. What if you post on Twitter, Facebook and occasionally on Linkedin and just need to know if you're getting traffic or not. This is why I made a simple spreadsheet. Keeping it simple and making me focus on more fun things during the day.
Tagging Links With A Spreadsheet
What if you could paste the URL to the page you wanted to share and get the URL you're supposed to use, instantly? This simple spreadsheet will do just that.
Open up and create a copy of the Google Analytics Tagged Links Spreadsheet.
Paste the URL you want to share and give it a campaign name (one word, no spaces). Then you will have the option to copy URLs and share them on Twitter, Facebook and Linkedin. If a user clicks the new URL using the Twitter app, you will still see this traffic in Google Analytics as traffic from Twitter. Problem solved.
I use the campaign name post for all my photo blog posts. This way I can open up Google Analytics and the campaign named post to see if Twitter, Facebook or Linkedin generated the most traffic. I can also see which post that engaged people the most. In Google Analytics you can quickly add the Secondary Dimension: Landing Page and you can see traffic from social media X to landing page Y: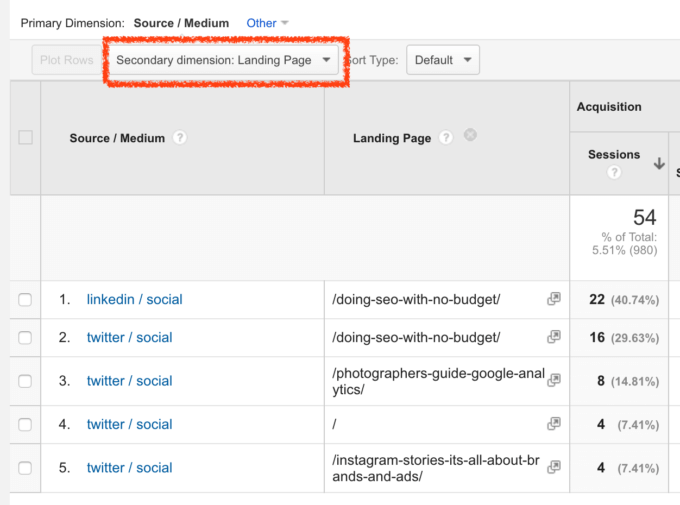 It is vital to measure, in order to improve.