Google Analytics is the number one free web analytics service provided to small and large business owners by Google. I've been using Google Analytics for personal work, like this blog, and client projects for many years going back. Google Analytics is not perfect but can give you a great understanding and insights into your business online if implemented and used correctly. But the free version of Google Analytics comes with its caveats.
When you need Google Analytics 360
Many of my clients have reached or is about to reach the 10 million hits per month limitation.
Each time the tracking code is triggered by a user's behavior (for example, user loads a page on a website or a screen in a mobile app), Analytics records that activity. Each interaction is packaged into a hit and sent to Google's servers.
Reviewing performance and looking at data is at its best when you can have the whole picture (or data set). I am not a fan of sampled data, even though I work with it every week. One thing you can do before discussing the paid version of Google Analytics; review which hits are being sent. Sometimes you might find an ocean of events that no one is using for reporting performance or engagement. They simply exist, without any actual reason. Throw them out and reduce the number of hits currently being sent.
Google Analytics 360 removes the sampling of data.
In data analysis, sampling is the practice of analyzing a subset of all data in order to uncover the meaningful information in the larger data set. For example, if you wanted to estimate the number of trees in a 100-acre area where the distribution of trees was fairly uniform, you could count the number of trees in 1 acre and multiply by 100, or count the trees in a half acre and multiply by 200 to get an accurate representation of the entire 100 acres.
With the paid version of Google Analytics, we can also make some magic with roll-up reporting.
A feature of Roll-Up Properties, which aggregate data from multiple source properties into a single property. Roll-Up Reporting is a special kind of reporting that lets you analyze the aggregated data that's in a Roll-Up Property. Roll-Up Reporting is only available for Analytics 360 Accounts, and only works on designated Roll-Up Properties.
Roll-up reporting with unsampled data and more available data can be the biggest push for Google Analytics 360 if I listen to the clients that have made the switch and invested in the paid version. If you need to bring a few specifics to the table while discussing the need to go with the paid version or not, use the table below. Download the document or print it (but let's be nice to the environment and not print it).
Google Analytics free/paid comparison table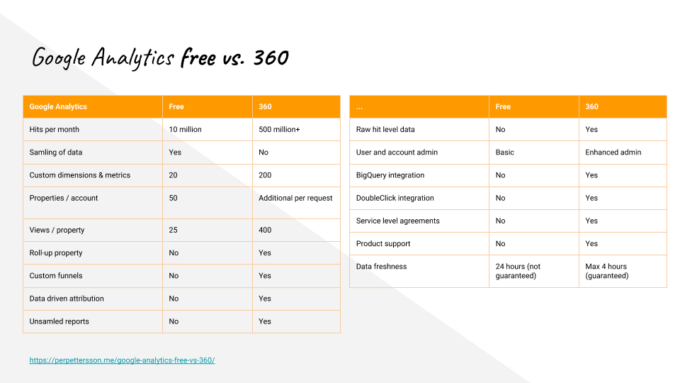 Download the free vs. 360 PDF to print/bring to your account discussions at work.