Let's face it: some of us are spending too much time in Google Analytics. This is great if you're an analyst or marketer, but what if you're writing content for a website and you love to see what kind of content that gets its wings? You don't want to drill down in reports – you just want the numbers. And seeing a website grow in visitors and engagement, isn't that something super fun?
When it comes to looking at basic Google Analytics data like this, GAget for Mac OS can help you out.
I gave the Google Analytics Apple widget a go (and I'm still giving it a go) and found it to be a good health check report for my Google Analytics data. The widget will display the website sessions of today and on a sparkline graph sessions of last week, last 2 weeks and last 4 weeks.
Next to this Google Analytics health check you'll get a summary of sessions, users and pageviews. Working with content these are the basic dimensions you want to see growing. More people coming more often and engaging with more pages on the website.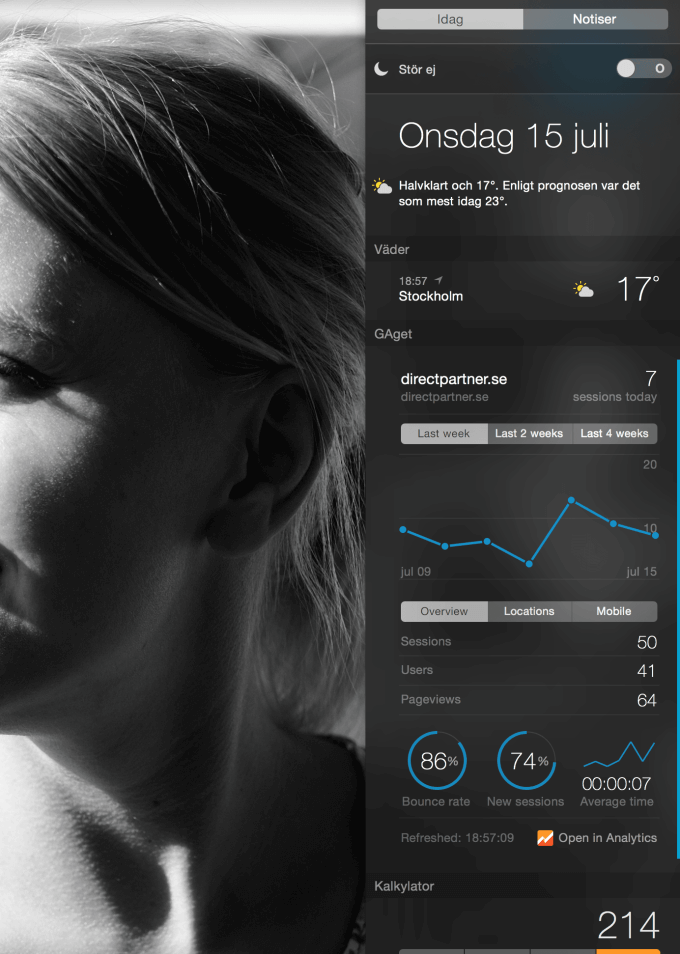 Location data and a summary of devices used to access the website is available next to the basic overview data tab. For global websites the location data will give us a quick idea of where our content is performing the best. If the website you're managing only is intended on one specific market, for arguments sake let's say Norway, and you see an increase in locations like the US and Russia: it is time to go and dig a bit deeper in your traffic acquisition reports (sadly a lot of spam and fake traffic is still flowing in, messing around with our data).
The Google Analytics widget will also display bounce rate, new sessions and average time. If you look just above the average time metrics, you'll see another little sparkline graph. This will indicate if the average time is going up or down, depending on your date range in the top of the widget (last, 2 or 4 weeks).
If you're tired of the reports in Google Analytics to answer your basic questions about your websites health – this could be the widget you're looking for.