Custom reports are among the most useful features in Google Analytics. They enable you to summarize and present your data in a way that best suits your business goals. But creating reports from scratch can be confusing if you're not spending time in Google Analytics each week.
Understand dimensions and metrics
Before you start building your custom report in Google Analytics, you need to understand what dimensions and metrics means and how they work together. The analytics help pages have a good explanation for you as well as a video over at the Analytics Academy. When you understand dimensions and metrics – custom reports will make a lot of sense.
Customize a standard report
If you're browsing through the standard reports in Google Analytics but missing that key metric or maybe need to change dimension – customize it. You can transform standard reports into custom reports with ease. When you're using a standard report, hit Customize: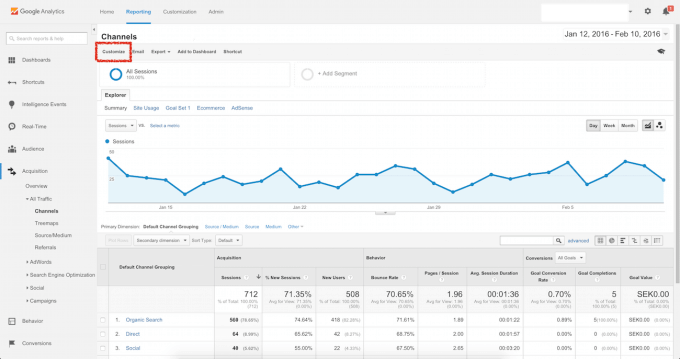 And adjust your metrics the way you want to see and transform the data:
With the push of a button, you have built your first custom report in Google Analytics:
Caveat: you're not going to have the option to customize every standard report within Google Analytics. This could be your first steps working with custom reports, but you're going to be limited when setting up your reports.
Building a custom report
Creating a custom report from scratch is a beautiful thing. We understand the difference between dimensions and metrics and start by asking ourselves the question we want the data to answer. Creating a custom report without a question to answer will most likely result in a data puke report. Nobody have time for that.
Start your building the answer to your question under Customization. Give the report a descriptive name and then add the metrics and dimensions you need:
You're eager to know which devices have the highest average order value and then understand how the user found our website. Build the answer to your question:
You might find that desktop outperform both mobile and tablet by $100 in average order value and that your Referral traffic is the reason behind these high quality visitors to your website.
Once you start building your custom Google Analytics reports, you can't stop. Just make sure you ask the right questions and have fun while doing it.